In 2003, following the upgrading of the rights of way the Parish Council decided to embark on a programme to promote the footpath system to the public and initially worked with Eastwick Gilston Parish Council to produce a footpath map covering both parishes. Using a grant under the Parish Paths Partnership an artist was engaged to draw the map and a firm engaged to make a series of map display boards which were sited at various places in both parishes in the spring of 2004.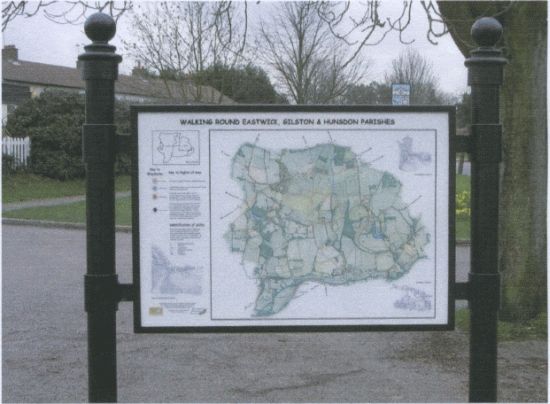 The map board was regard as Stage 1 of the project and whilst showing all the paths, was not a lot of good for walkers unless they had a very good memory, so the purpose of the boards was really to create a state of awareness of what was available in terms of public footpaths in the surrounding area. Click here
to view the map.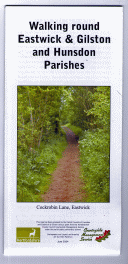 Stage 2 was the concurrent reproduction of the map in folding paper form which was distributed throughout the two parishes and placed on sale in outlets in Hunsdon and Eastwick.
The parish council then decided to take the project to Stage 3 by publishing a book containing a series of twelve set walks using the public rights of way within both Hunsdon and all the adjacent parishes whilst at the same time starting and finishing at Hunsdon Village Hall. This approach was adopted because as mentioned at the commencement of these notes many of the present definitive footpaths have evolved from routes in the past that connected the local communities and therefore give limited scope to create circular walks strictly within Hunsdon. The walks are of varying lengths to suit abilities of the walker and at the same time bring them back to their departure point, in this case Hunsdon Village Hall. Another of the benefits is that the walks are able to take advantage of many of the spectacular views across the boundaries in the other parishes as well as embracing many local points of interest which would not be available if the walks were confined purely to Hunsdon. See also Further rights of way initiatives
The book is on sale at Hunsdon Stores, price £2.50 or by post from Hunsdon Parish Council (Walks Book) 13 High Street Hunsdon,Ware Herts SG12 8NH (Please add 25p postage and packing). You might also like to look at the independent website www.walkinginherts.co.uk.