Easy Access Routes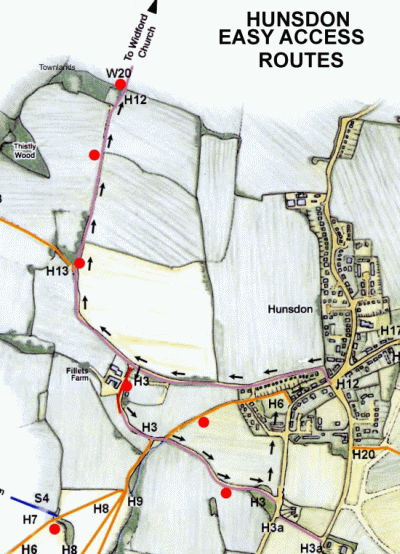 As part of its policy to develop a range of public rights of way that cater for people with limited mobility and also for young families who perhaps do not wish to undertake the more arduous cross field walking, the County Council has improved the surface of two existing Restricted Byways to the west of the village. One forms a circular route, the other a direct line on an out and home basis. They both have the benefit of places to pause and rest whilst taking in wide views of the surrounding countryside. The walks start and terminate in the village centre where there is parking for visitors to the area. Full details are shown below. The bench sites are denoted by a red spot on the adjacent map. The prefixes to the path numbers denote H-Hunsdon,S-Stanstead Abbotts and W- Wareside
The Circular Walk to Fillets Farm and return to the village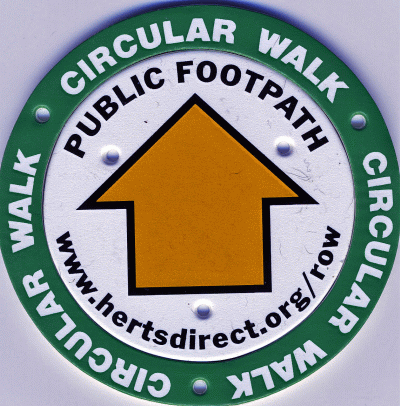 From the Village Hall turn right and immediately right again on to Restricted Byway 12 (Back Lane) and follow this until reaching Fillets Farm where you turn left on to Restricted Byway 3 and walk through what was the farmyard. Whilst the land is still farmed the old barns have now been converted into offices and holiday lets. If you wish to pause here a bench has been provided in the farmyard. Carry on along the path which becomes a gentle rising slope. Once again a bench has been provided near the top where you can pause and take in the wide views across the countryside to the north west of Fillets Farm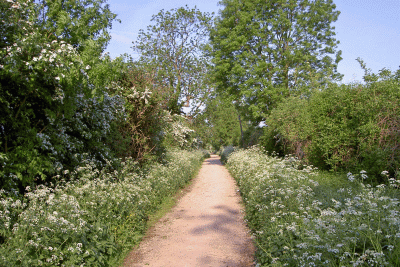 From here the path continues and passes an old gravel pit in a short dip before reaching Stanstead Road (B180) where, if you turn left along the road, you can return back to the centre of the village and the original start point. This part of the walk is on tarmac and all kerbs have ramps.
Out and Return Walk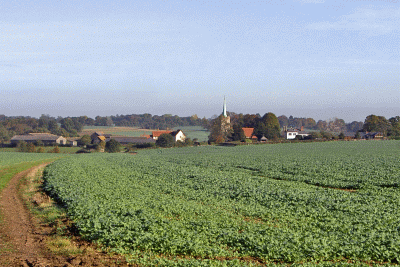 Once again start from the Village Hall and follow the circular route as far as Fillets Farm but carry straight on instead of turning left. The path rises gently until reaching Townlands a small wood on your left. Three benches have been provided on the walk, two on the way up the slope giving splendid views towards Hunsdon but the third, just the other side of Townlands gives a really impressive view of Widford Church and the Ash Valley. On return you have the option of turning right at Fillets Farm and following the second part of the circular walk.
Why not pause for a while on your walk and enjoy the varied views?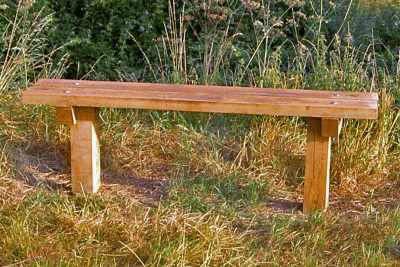 Whilst the footpath network is used by the more seasoned walkers who perhaps cover several miles in the course of their walk Hunsdon Parish Council is also seeking to attract the more casual user who just wants a short undemanding walk in the area surrounding the village. Working as a member of the Parish Paths Partnership with funding through the County Council's Countryside Management Service, it has erected a series of sixteen wooden benches at strategic places on the paths throughout the parish. These sites have been chosen not only to break up long stretches of walking but also allow walkers, whilst resting, to take in the views of the woods and fields with which the parish abounds. Red symbol denotes bench site. Prefix to path number:- H – Hunsdon W – Widford S – Stanstead Abbotts WS – Wareside E – East wick & Gilston HW – High Wych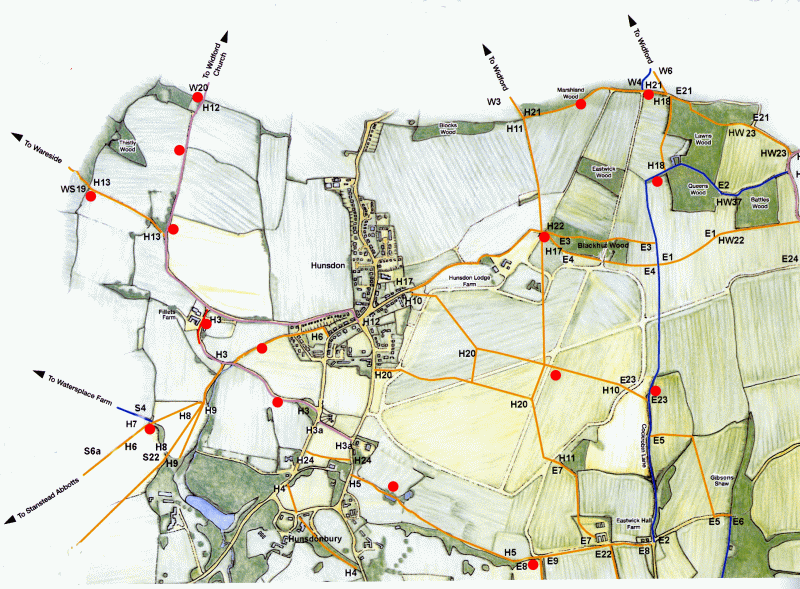 The Green Route – A walk without a map!
As a further initiative to promote use of the public footpath network around the village the parish council, working as part of the Parish Paths Partnership, has created a circular walk to the north east of the village which has been identified in situ by a series of green collars around the arrow discs on the waymark posts. There are some directional notes and map below but you don't need to take them with you as you just follow the arrows! The walk is signed so that it can be done either clockwise or anti clockwise but for the purpose of these notes the clockwise direction has been used.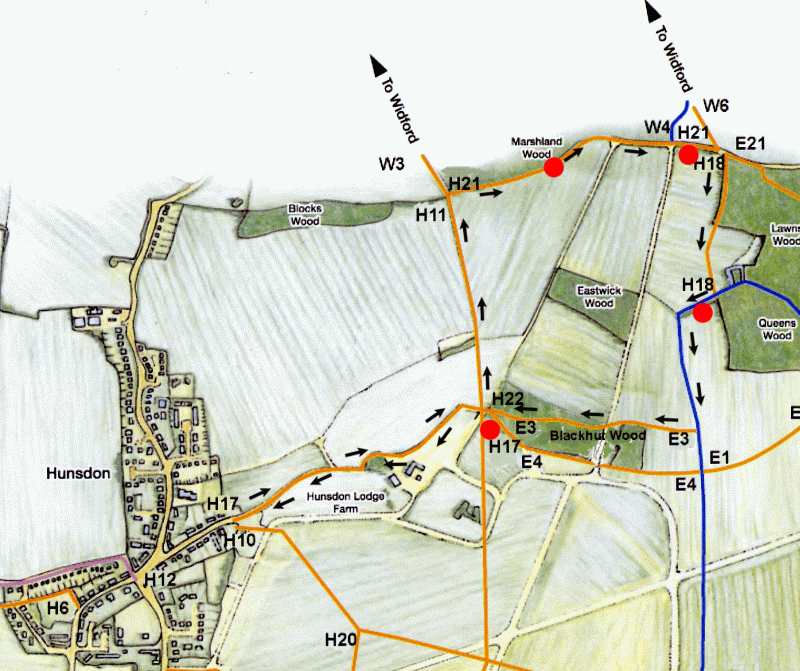 Starting from the Village Hall Car Park turn right, past the Crown Public House and the village pump and proceed to the end of Drury Lane. Pass through the kissing gate, and past the pond and straight ahead along the farm track until you reach a small copse and some barns on your right, the site of the original Hunsdon Lodge Farmhouse. Past the copse the footpath continues ahead across the cultivated field.On reaching the waymark junction post just short of Black Hut Wood turn sharp left as denoted by the arrow and cross the field, over a small footbridge and continue along with the hedge and ditch on your left to the top of the field. From here pass through the hedge over a small footbridge turn immediately right and with the hedge on your right until a further footbridge takes the path back through the hedge again. Turn left and follow the path along the length of the edge of Marshland Wood where a bench has been placed for you to pause and take in the view, then a short stretch into open country again, with another bench, until reaching the corner of Lawns Wood. At this point turn right following the edge of the wood on your left. At the waymark post at the corner of the wood continue straight ahead across the cultivated field until reaching a bridleway. Turn right here and at the end of the hedge on your left bear left across cultivated land before turning sharply to the left at the next post. Note a further bench just behind the end of the hedge. You are now on what used to be part of Cock Robin Lane some of which still exists in its original form further to the south. On reaching the next waymark post turn right, still on cultivated land, then passing part of Black Hut Wood on your left thence across the concrete track and through the middle of the remainder of the wood. On emerging from the wood go ahead to the junction waymark post in the field where you started the circular part of the walk and continue ahead to take you back to the village over the outward route. A further bench is placed at the corner of the wood should you wish to pause before completing your walk As described in the notes, several parts of the walk are across cultivated land and can be heavy going in the winter or after heavy rain so stout footwear is recommended at these times. Bench sites denoted by red dots. Prefixes to path numbers :- H – Hunsdon, W – Widford, E – Eastwick & Gilston