Age 6 to 8
Tuesdays 6.15 to 7.15 pm

Age 8 to 10½
Fridays 6.15 to 7.45 pm

Age 10½ to 14½
Fridays 8.00 to 9.30 pm
News from Hunsdon Scout Group
Group News
Throughout the year we run a busy programme in our Scout Group, for all sections, which includes a varied range of activities. With so much going on time flies and the Summer term is particularly busy as we finish off badges, prepare for (and recover from!) outdoor activities and camps, and support community events as much as time permits. Along the way lots of people lend a hand, which we are very grateful for, and we are always keen to hear from anyone else who would like to get involved; it's a great way to get to know people in the village if you are new to the area, so do get in touch if you have an hour to spare..
These are just a few ways you might get involved:
Admin – we are looking for a new Secretary to support our Group Executive (3 meetings per year). This would be great for someone with a couple of hours a month to spare with some admin/IT skills
Sewing skills – we have 2 volunteers already, and another would be great, to help the Cubs sew on their own badges during the Autumn term
Map and compass – help us lead small groups in simple navigation activities on the airfield
Unusual sports – introduce our Cubs to a new sporting activity
Cooking skills – help leaders run the Chef Activity Badge, provide healthy eating advice and supervise some chopping!
If there is anything else you are an expert in, we would be interested in having a chat – Scouts badges cover a wide variety of areas these days. Please give it some thought and drop me a line at scoutgroup@hunsdon.org.uk.
Thank you to everyone who has supported us during the year, and to the Parish Council and Parish Room Trust who have provided financial support for some new equipment.
Thank you! Karen, GSL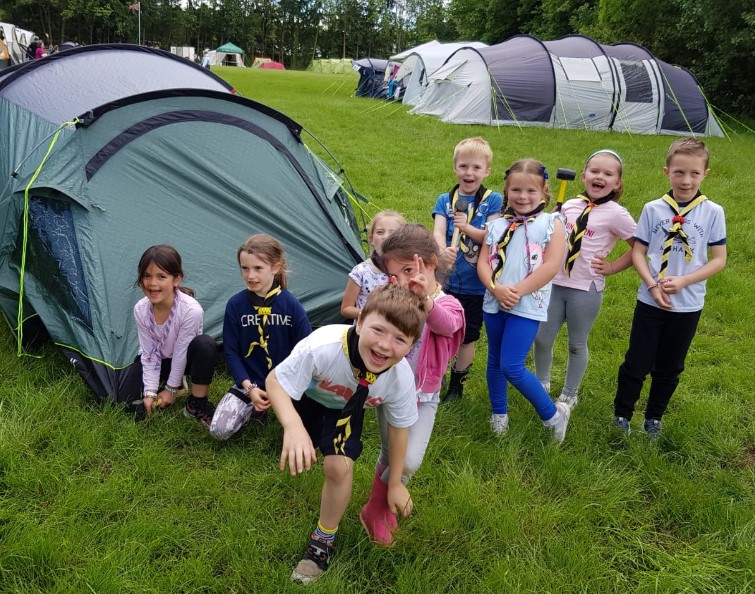 Scouts
Scouts have had a busy Summer taking part in the District Lightweight Camping Competition which saw them hike 8 miles from Lemsford Village near Welwyn Garden City to Harmergreen Scout Campsite in Datchworth.This Summer we have also been building natural shelters and we will be going climbing and abseiling before the Scout Swimming Gala at the beginning of July.
Leader Martin
Cubs
Unfortunately our Annual Fun Run got rained off this year, but we did manage to go on a great evening trip to ESSA Water Sports where we took the Katakanus (a sort of double canoe) out. It was very chilly, but it was good to pick up some more points towards the Time on the Water staged badges. Cubs will also be doing some kayaking when they go to Thriftwood Camp in a couple of weeks time, as well as climbing and abseiling and lots of other fun outdoor activities.
Akela
Beavers
We spent a few weeks getting ready for camp learning camp songs and having group discussions learning about camping. Camp was a district event at Tolmers Scout Activity Centre (Cuffley). The beavers learnt basic camp skills – setting up tents in teams, cooking bread twists (dampers) over a fire, and pioneering, and after a busy day we joined in with the campsongs in the evening. Everyone had lots of fun and we were very lucky with the weather! At our following session we continued with nature and did some writing using natural materials which needed team work.
Mole
Enquiries:
Karen Osterley, Group Scout Leader (07971 753193) / scoutgroup@hunsdon.org.uk
Subscription rates £3.20 per session (assistance available for recipients of Pupil Premium)
Collecting used stamps for Hearing Dogs for Deaf People www.hearingdogs.org.uk